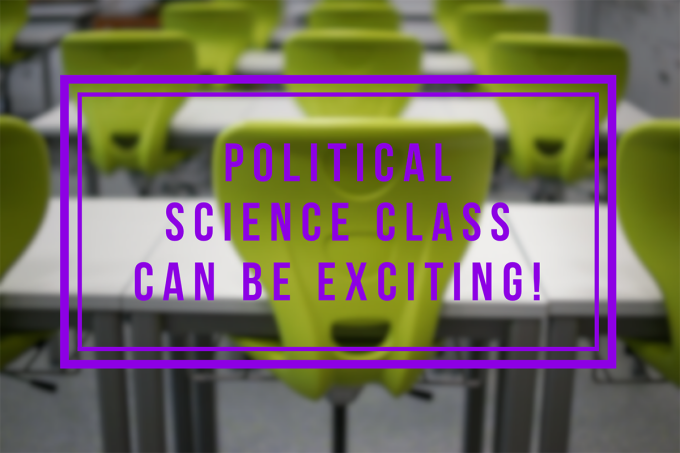 Received this e-mail the other day and thought it was pretty "fleek".
Hey Pastor –
I wanted to share an interesting incident with you. I'm sending this on behalf of my son, Dakota… he took a political science college course this summer that deals with World Politics. One morning, a few weeks back, the class launched into a discussion on religion's place in politics - about which nearly everyone seemed to have varying opinions. Eventually, Christianity's involvement in Government came up – to which the professor stated: "Jesus was never involved in government issues…"
At that point, Dakota's ears perked up. He was thinking, "Did I really just hear her say that? We JUST had a sermon on that." With that, he raised his hand and began explaining the organizational approach Rome took to "governing" the countries under their rule and the role of the local leaders. He went into the Sanhedrin, Sadducees and Pharisees. He made the points about Jesus' involvement with these groups and His role in clarifying God's Law and its applications in leading His people. As he went on, the professor eventually began to give ground. Dakota could feel the class turning to listen intently to the exchange. It wasn't argumentative or sarcastic and, at one point when another student attempted to divert the conversation to another topic, the professor prevented it and asked Dakota to continue.
Dakota went through nearly every facet of the sermon. As he was later relaying the encounter to me, I was a little taken aback because Dakota was bringing up points that I had heard, but hadn't retained top-of-mind. He had absorbed them, however, and apparently unleashed them all on his professor and her class. In the end, his professor conceded that she would look more into what Dakota had stated and think it through. Again, there was no arguing or anger in the discussion, rather a mere exchange of fact vs. opinion.
Anyways, he and I both got a kick out of watching God in action. It was nice that we had the moment to discuss how really outstanding it is to look back and see what God had planned for in advance. He had the right person in the right place at the right time – prepared with the right information. All it took was a little observation and the courage to go ahead and speak up. Dakota asked that I relay the story to you.
Jason and Dakota
You know, that's pretty encouraging and uplifting. To see God preparing a young student for the right place and right time to spread the right message. Good stuff. Just what I needed to hear. That's one of the reasons why we read the Bible and that's why we ask the Lord to give us an awareness of what He wants us to say and to do, wherever we might be. Dakota actually applied what He learned from the Bible to his life. I would have never made that specific application suggestion in a sermon. No, he was ready to apply it to his life, as the Lord wanted.
Rather, speaking the truth in love, we are to grow up in every way into him who is the head, into Christ,Ephesians 4:15 (ESV)
One of the challenges we face in our day to day living as Christians is sharing with others a Godly perspective. It's easy to be intimidated into silence and not speak what we know to be true. The world on the other hand is not afraid of sharing their worldviews which touch on every area of life from the least important to the most important; what's life all about, what is sex all about, marriage, how should it be defined..., even the presidential elections. The attempt to control human thinking has been a constant goal of the evil one throughout history. Satan has always been the father of lies and he knows that the way to make the world a mess is to confuse human thinking. Have you noticed the world is a "hot" mess at the moment? The attempts at this mind control are found in movies, music, business, media, and yes, even sensitivity classes that are mandated to be attended by the "uneducated" (Godly) having been sentenced by godless judges whenever you hold to the Biblical position of marriage. (Can anyone say George Orwell's 1984.) And of course we find this conflict often in the educational system; especially in the classroom. Sometimes it's intentional...sometimes it's not, sometimes it is with the bully whip, sometimes it's subtle. Sometimes it's a big deal topic, sometimes it's not. Sometimes it presents a whale of an opportunity to bring the focus on Jesus and what the Bible says. That's what happened with Dakota!. It was an opportunity that he seized, and he did it with a humble spirit and confident inner strength that comes from the Lord. But it should be acknowledged that it will always remain a constant challenge for the Christian to step forward and speak.
It takes a love for God and a love for people. It takes knowing what God thinks and what He says through Bible study and prayer and then to step forward and share it with others who may not hold to that position at that moment. And did I happen to mention to do it with love and humility? Opening the door for dialogue and a change in thinking is a noble and Godly goal in a public setting. We are, whether we like it or not, engaged in a battle for the mind as a disciple of Christ. We know our life mission includes being the salt and the light in the world. We are the ones who are to be bold and loving as we impact the world for good, for God. It's an exciting way to live...even "spices" up Political Science. It can "spice" up your life as well.
And, to be honest, as a side note... it's pretty "snatched" that someone remembers something from a sermon. :)
"You are the salt of the earth, but if salt has lost its taste, how shall its saltiness be restored? It is no longer good for anything except to be thrown out and trampled under people's feet. "You are the light of the world. A city set on a hill cannot be hidden. Nor do people light a lamp and put it under a basket, but on a stand, and it gives light to all in the house. Matthew 5:13-15 (ESV)
By Pastor Ralph Sawyer