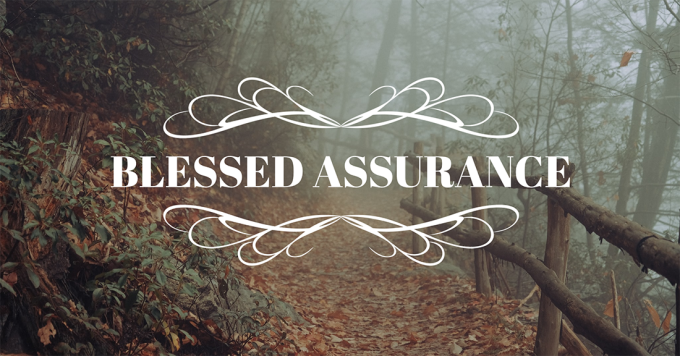 Blessed Assurance
I tend to believe the relevant word for the year 2021 is "Uncertainty"! Everyone has reached their limit of tolerance for the pandemic, wearing masks, social distancing, lockdowns, and pressure to be vaccinated. With a new President and administration, people are wondering what impact their policies will have on daily life. There is so much division and hatred and violence being demonstrated from every side. We know as a nation, we have enemies like China, Russia, North Korea and Iran that would love to destroy us. What will the next few weeks, months bring? Where will it all end? As Christians, what should we be doing? Well, I would like to put forward three things the Bible says we should always be doing:
1). TRUST:
Proverbs 3:5-6: "Trust in the Lord with all your heart; do not depend on your own understanding. Seek his will in all you do, and he will show you which path to take."
How big is our God? Did He not promise to always be with us? If your hand is in His, you can walk through the darkest night without any fear. As David said in:
Psalm 23:4-5: "Even when I walk through the darkest valley, I will not be afraid, for you are close beside me. Your rod and your staff protect and comfort me."
Psalm 18:1-2: "I love you, Lord; you are my strength. The Lord is my rock, my fortress, and my Savior; my God is my rock, in whom I find protection. He is my shield, the power that saves me, and my place of safety."
One thing we can always be confident of, is that He loves us and always has our best interests in mind. So many times I lean on this, my "life-verse".
Romans 8:28 "And we know that God causes everything to work together for the good of those who love God and are called according to his purpose for them".
I know from experience that this is not always immediately apparent until we get down the road a ways and look back. Then we can see how God was always working to rescue us, build us, teach us, and lead us into a deeper understanding. Another "rock" of my foundation is found in:
Psalm 91:1-7: "Those who live in the shelter of the Most High will find rest in the shadow of the Almighty. This I declare about the Lord: He alone is my refuge, my place of safety; he is my God, and I trust him. For he will rescue you from every trap and protect you from deadly disease. He will cover you with his feathers. He will shelter you with his wings. His faithful promises are your armor and protection. Do not be afraid of the terrors of the night, nor the arrow that flies in the day. Do not dread the disease that stalks in darkness, nor the disaster that strikes at midday. Though a thousand fall at your side, though ten thousand are dying around you, these evils will not touch you"
2). WAIT:
I know! We don't even like the sound of this word. We like "fast-food," a 2-day maximum delivery on orders, we don't care for "waiting lines," or traffic jams, or any unnecessary
delay in our lives. Whatever it is we want—we want it NOW!! As adults, we know there are times that we don't have a choice (i.e. license bureau). We must learn that we cannot put God on OUR schedule—God is going to do things on His schedule.
Isaiah 55:8-9: "My thoughts are nothing like your thoughts," says the Lord. "And my ways are far beyond anything you could imagine. For just as the heavens are higher than the earth, so my ways are higher than your ways and my thoughts higher than your thoughts."
Many times we pray and make requests of the Lord, and then we give up and think He isn't listening because it has been a few days and our prayers are unanswered. Rest assured, He always hears our prayers; He even knows our every thought. Sometimes He grants our request, other times He says "No," and there are times He says "Wait!!" There are promises for those willing to wait; as in:
Isaiah 40:31: "But they that wait upon the Lord shall renew their strength; they shall mount up with wings as eagles; they shall run and not be weary; and they shall walk, and not faint."
Micah 7:7: "Therefore I will look unto the LORD; I will wait for the God of my salvation: my God will hear me."
And one of my favorite promises!
John 14:1-3: "Do not let your hearts be troubled. You believe in God; believe also in me. My Father's house has many rooms; if that were not so, would I have told you that I am going there to prepare a place for you? And if I go and prepare a place for you, I will come back and take you to be with me that you also may be where I am."
3). WITNESS:
This word means telling what you have seen or experienced. Has God been good to you? Tell somebody! Has believing in Jesus made a change in your life? Tell somebody! Tell them who you put your trust in (not politicians, not armies, not in man at all, but in Almighty God)! A personal testimony can reach someone. They may be able to relate to your background and are searching for an answer. Your life itself should be a witness. Show love rather than hate, show peace and contentment rather than anxiety, and show joy rather than depression.
Galatians 5:22-23: "But the fruit of the Spirit is love, joy, peace, forbearance, kindness, goodness, faithfulness, gentleness and self-control. Against such things there is no law."
"Blessed Assurance, Jesus is mine!
Oh, what a foretaste of glory divine.
Heir of Salvation, purchase of God,
Born of His Spirit, washed in His blood!
This is my story, this is my song,
Praising my Savior, all the day long;
This is my story, this is my song,
Praising my Savior, all the day long"!