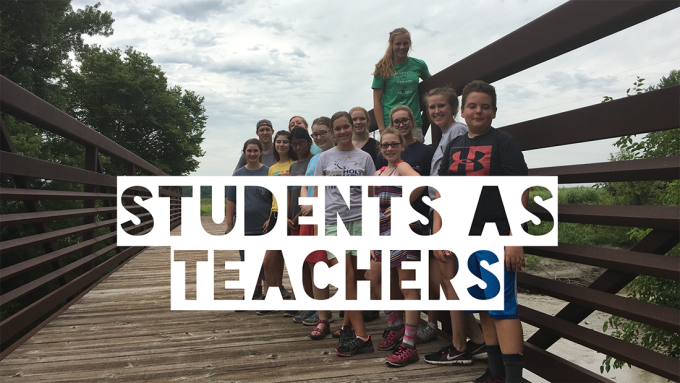 I came into the office last Monday and started rolling through my daily schedule and my scheduled tasks for the upcoming day. I had moved the finishing touches of my Wednesday night Bible study up to Monday morning so that I could take the time to travel to Atchison, Kansas to spend some valuable time with the students from our student group that had travelled to that location on mission trip. I had never travelled to that part of Kansas before and I always enjoy any new sites or new experiences when on the road. I took my lovely bride with me and we both really enjoyed the scenic drive over. As we approached Atchison it became obvious that this small bustling eastern Kansas town had something to do with Amelia Earhart. We actually discovered that she was born there and they even had an airport named after her that was a historical marker of the famed pilot's early beginnings.
But then, after a brief look over the area, we turned to the task at hand, discovering where the students and their leaders were canvasing the neighborhood with the gospel while handing out flyers describing a new church plant called "Celebration Church" that the students have been working with during summer missions. I wanted to surprise the team with a visit just to give them an encouraging word. After a few turns here and a few turns there with my trusty navigator at my side we spotted our church vans just around a corner... we knew we were close...and it wasn't too much longer before we slowly and deftly rolled up on Pastor Jeremy Shirley and Associate Minister Alec Erhart along with the freshest and most determined students I had seen in a quite a while. Really, it was a sight to behold. These students and their leaders were excitedly and passionately, and did I mention tirelessly, executing their plan of evangelism and survey. I mean it was a hot day there and they were still at it. In fact, after we left them to go get a bite to eat, they just stayed out there until almost dark to get as much done as possible. Pretty impressive and very encouraging to watch that team at work for the glory of the Lord. It was neat to hear their stories of how the day had gone and how the mission was progressing.
You know, there's so much bad stuff that goes on out in this old broken world it's really quite refreshing to come upon some good stuff that you can share. I had originally travelled to attempt to spread a little encouragement their way and they ended up being the ones that were building me up and encouraging me. It was great. Our students have a lot of opportunities on the horizon. We, as a country, are in desperate need for young and passionate Christians who serve the Lord because they want to, not because they have to, to step up and infiltrate the world with the gospel and live a life that makes a difference. We need Christian scientists who are able to discover and articulate the scientific facts that bring down the godless theory of evolution, in whatever form it takes. We need doctors, and nurses, and police officers, and military personnel, and media personalities, and newsmen, and actors, and pastors, you get the idea...everywhere to be the salt and light of the world.
"You are the salt of the earth; but if the salt has become tasteless, how can it be made salty again? It is no longer good for anything, except to be thrown out and trampled under foot by men. "You are the light of the world. A city set on a hill cannot be hidden; nor does anyone light a lamp and put it under a basket, but on the lampstand, and it gives light to all who are in the house. "Let your light shine before men in such a way that they may see your good works, and glorify your Father who is in heaven." Matthew 5:13-16 (NASB)
You can put a smile on your face today because these students are anything but tasteless. And these students are stepping up. They are salty for sure and I see a commitment in their lives that demonstrates their genuine and meaningful relationship with Jesus.
What can you do to help these students? If you're a parent of one of this fine young men or women let them know you're on their team. That means do the tough stuff when you have to and continue to parent them with a focus to help them find what the Lord would have them do...and work on making that happen...and do it all with unmistakable love, no hidden message stuff...make it clear. You are the biggest influence on their lives...you're doing a great job, don't tire out...keep it up! If you're like me and these students are not your own children it's good to remember they are a part of our "family" and we should be there to help them, pray for them, encourage them, and support them whenever and wherever we can.
And we can love on their leaders. We should stand with them, appreciate them, and speak well of them as they serve the Lord and minister to our students.
Obey your leaders and submit to them, for they keep watch over your souls as those who will give an account. Let them do this with joy and not with grief, for this would be unprofitable for you. Hebrews 13:17 (NASB)
If someone starts to gossip from ignorance, stop them and turn the conversation into something positive. It brings our students comfort when everybody is on the same team.

Do all things without grumbling or disputing; Philippians 2:14 (NASB)
I've watched these leaders and students at work for the Lord. Those that were saved during the ministry of our students are glad that they came. And those that are encouraged by their love and commitment to the Lord are glad that they were sent.
Maybe they could even teach us a thing or two.