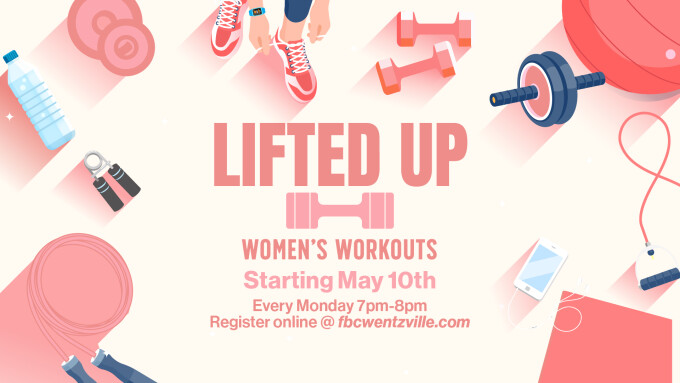 Lifted Up
Taking care of our earthly bodies isn't something that comes easily to everyone. Between busy schedules, work, kids, taking care of our homes, and daily routines we tend to push our health to the side. I don't know about you, but I find myself in a big slump when I don't get up and move. It can have a negative impact on nearly every area of my life. God designed our bodies in such a specific way that when we exercise, our bodies release certain hormones that boost our mood! Exercise also boosts our energy level so we are motivated to do all of the things that we are called to do as women of God! Sometimes we get stuck in a rut and we can't function to the best of our abilities, but through exercise we are able to be lifted up out of that rut!
Psalm 40:2 says, "He lifted me out of the slimy pit, out of the mud and mire; He set my feet on a rock and gave me a firm place to stand."
I'm not saying that working out is going to fix all our problems, but it's the beginning of new habits and typically start a domino effect in your life. When you feel better, you become more productive in every area of your life. You may become more social, you might have enough energy to check some things off of your to-do list, and most importantly you may feel more energized and confident to speak to someone about your relationship with Christ and sharing the Good News with others!
As women, we focus on everyone else and put ourselves last. In all honesty, when we take care of ourselves by reading our Bible, spending time in prayer, making time for godly relationships, eating well and exercising, it is the absolute best things we can do for our families! These are not things we should feel guilty about. We are not neglecting our family when we take time to care for our health. When I am stressed out or spread too thin, I tend to take my feelings out on my family. When I am prioritizing daily activities and spend time in God's Word and prayer, I am better equipped to handle the everyday stresses and field the unexpected "bump in the road" without rubbing off on my family.
It's our responsibility to take care of these bodies we were given and to honor God with them. Join us on Mondays starting May 10th from 7:00 to 8:00 p.m. for an hour of exercise. We will have different stations set up that will work for every age and ability. We will meet in the foyer and all you need to bring is a bottle of water and a mat (if you have one).