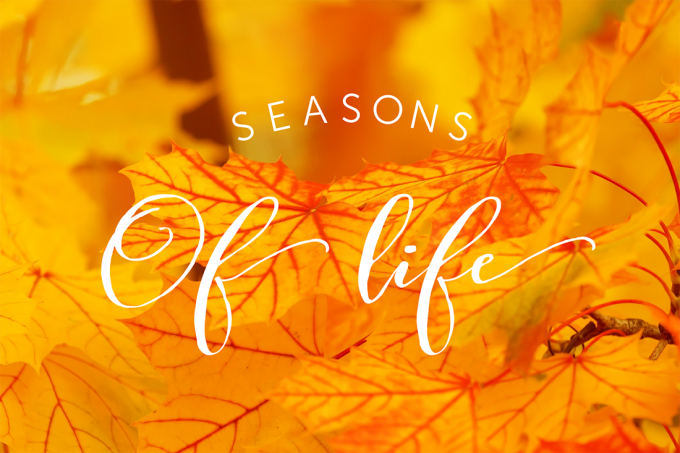 A new season is once again upon us. God tells us in Genesis 8:22 "That as long as the earth remains, there will be spring time and harvest, cold and heat, winter and summer, day and night." We will experience the beauty God puts before us in the gold, red, and orange leaves of autumn. The air will become crisp and cool as we pull out the jackets and put up the summer flip flops. Our kitchens will also be filled with the smells of pumpkin and spices. Families will gather together as we celebrate all that God has provided for us. Oh, I love this season!
God also presents us with seasons of life. Ecclesiastes 3:1 says "There is a time for everything, and a season for every activity under heaven." Some of these life seasons are easy and others are more difficult. I have experienced, like many of you, seasons of joy, tears, laughter, love, healing, sickness, grief, and uprooting.
The most recent change of season for me was when I decided to retire from my teaching career. I loved every minute of what I have often referred to as my ministry as a public school teacher. It was so very difficult to let it go. I didn't want to feel uprooted from 30 years of what felt so good. You see, I wanted to be in control but it seemed like every sermon and every song I heard was about stepping out in faith. When I allowed God to speak to me about having faith in what He could do with my decision, it became so very easy. I began to search God's word for answers. In Proverbs 3:5, God tells us to "Trust in the Lord with all your heart and lean not on your own understanding." I knew then that I must let go and let God have control. As I let my faith grow in what God could do, this season was no longer such a challenge. He began to give me the peace and joy I so longed for.
My husband and I are also walking a season of healing as he battles health conditions. I know this is a season for God to stretch us and pull us close to Him. I have learned to be thankful in all circumstances. God tested the Israelites in the wilderness for 40 years. This makes my seasons, however difficult they may be, seem very short-lived. I know God has this season under control.
One of my favorite verses is Romans 8:28 "We know that in all things God works for the good of those who love Him, who have been called according to his purpose." Notice God calls us to a season for His purpose, not our purpose. I encourage you to have faith and let God have control of each season. He can make life so easy and you can just enjoy the ride.