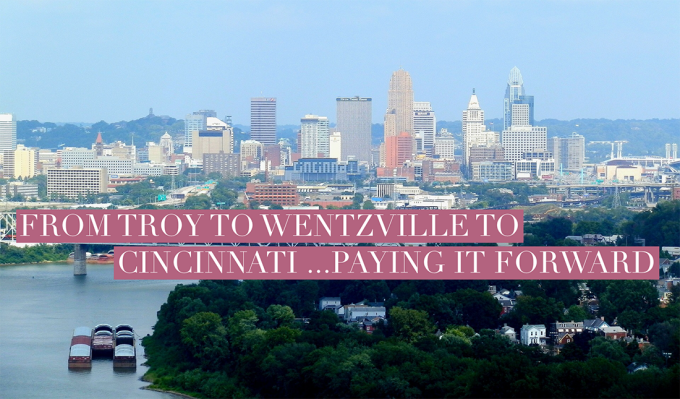 Have you ever reflected on where our church came from? How did we get from the first churches in Acts to a church in Wentzville, MO? In our comfort as an established church it's easy to forget our roots. Almost every church started as a church plant. For us, we began as a result of a small group of people that wanted to see a church start in Wentzville and First Baptist Church in Troy MO providing support early in our history. In the same way as we began, churches have begun all throughout history as someone or a small group of people set out to start a new work in a community.
When you reflect on our past, it reminds us of the importance of being a part of God's plan for the spread of the gospel through the local church. Understanding where we started helps us understand where we need to go next. Our church has partnerships with churches and church plants internationally in Mexico and Panama, nationally in Atchison, Kansas and we are in pursuit of one in St. Louis currently. Each of these is an opportunity to do for others what has already been done for us. We have a church today because someone wanted the spread of the gospel to take place in Wentzville and now we can do the same in the areas God has led us to partner.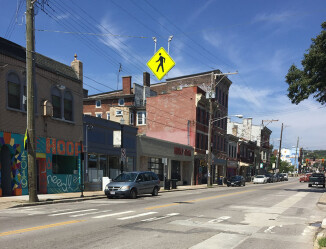 With that in mind, Alec Erhart and I had the opportunity to spend the last few days in the city of Cincinnati, OH exploring potential partnership opportunities for our church. It's one of the focus cities of the North American Mission Board that they have identified as one that needs new churches started. I want to share with you some of the exciting things God is doing in Cincinnati and some church plants that you can begin to pray for as God works to reach a city of over 2 million with less than 14% affiliated with an Evangelical Church. Here's an introduction to some of the Southern Baptist Churches being planted as a result of your giving:
Oikos Church – Church Planter Jerod Martin
The church is in its infancy. Jerod, his wife Chelsea, and 3 small children are what some call parachute church planters. This just means they selected a community in Cincinnati, picked up everything, moved there with no relational connections and are slowly building a core group through relationships and evangelism to launch the church. They're currently meeting in a karate gym where they have bible study. They've been planting in the area for just over a year and have built a core group of just over 20.
Origins Church (Butler County) – Church Planter Stephen Schick
Stephen is connected with a church that was planted back in 2010. They've grown dramatically in the last 7 years and are busting at the seams in their current store front church with over 500 weekly in worship. Origins desires to multiply themselves, much like the early church did. They're sending out Stephen to plant a church in another part of the city. Stephen, his wife Ally, and his 2 small children moved from Fairfield, OH where he was one of the pastor's to start this new work with Origins Church. He's just begun building his core group and to support his family he's working at Home Depot while planting the church.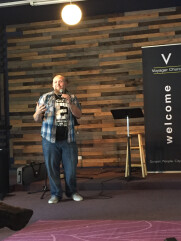 Voyager Church – Church Planter Brandon Caudill
This church plant is in a community of Cincinnati that has the hardest soil. It's a community that has no other evangelical church proclaiming the gospel. This is an area with over 7000 people with no gospel proclamation beyond what Brandon and his team are doing. It's an area known for being hip, alternative, progressive, and extremely liberal. 73% of the families are single parent households. They started planting Voyager in 2014, they have over 20 in their core group, of which are 7-8 adults, all of which were added by evangelism. Brandon, his wife Candace, and 2 children desperately need a space to gather but space is at a premium. It's a slow work but they're piercing the darkness of Northside.
Christ the King Church (Eastern Hills) – Church Planter Dustin Nimmo
Christ the King is another example of a church that is multiplying itself. After growing to about 500 in an area where heroin overdose is epidemic and renovating an old church building that was given to them for $1, they've launched another plant in another community and are in the process of planting in the suburbs of Cincinnati. Dustin, his wife Jamie, and 3 children planted in 2014 and are running over 100 in worship. They had a dying church vote to become a part of their plant and the property was deeded over to them.
The Oaks Church – Church Planter – Terry-Lee Kirkland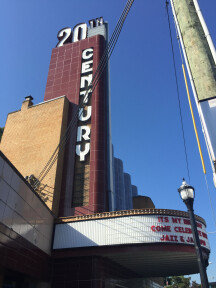 This church is being planted in a growing area of Cincinnati full of young professionals and young families. Terry-Lee and his wife Abby moved from Louisville, KY to plant a church in the Oakley community. Multiple families from their church in Louisville and also from Panama City, FL have moved to Cincinnati as well for the purpose of starting this church. Another group is joining them from Red Door Church, an SBC church that was planted a few years ago and is now multiplying itself. They have the opportunity to meet in a local theater free of charge! Their gatherings have 40-45 people currently and they're looking to start meeting weekly Spring of 2017.
This is only a sampling of those that have left everything behind and moved to Cincinnati to plant a church in an area that needs that gospel influence. Each of them needs our prayers as they face spiritual warfare, discouragement, financial stress, and countless other challenges that come with taking up this calling from God. Let this be a reminder for you to pray and maybe one day to go, whether that's on a short term trip with our church or permanently as you seek to spread the gospel! As a Southern Baptist, you have many things to be proud of; these churches being planted as a result of your giving are one of them! Remember, every church started somewhere, we owe a debt of gratitude to those that have made our church possible and now we have the opportunity to pay it forward.
By Pastor Jeremy Shirley