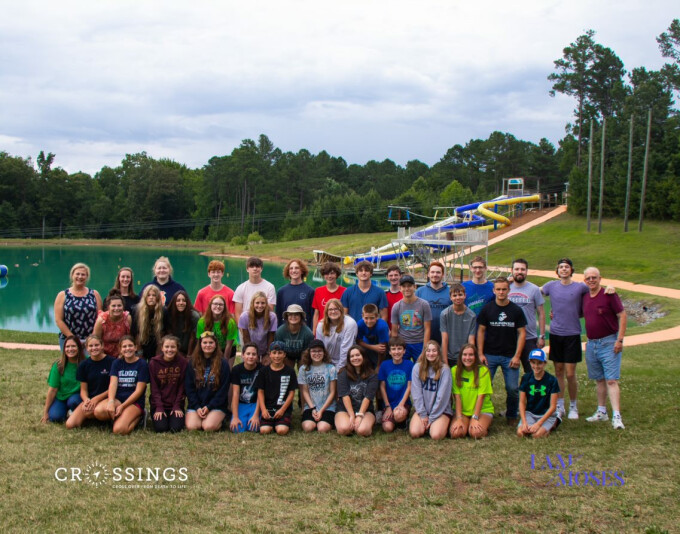 Looking Back, Moving Forward: Crossings Camp
Thirty-two middle and high school students and seven adult leaders from our church attended Crossings Camp at Jonathan Creek from July 12-16. We had a great time studying God's Word, singing gospel truth, and bonding together as a student ministry.
Camp offers the opportunity to disconnect from the outside world – social media, video games, work, and sports commitments – so that we can tune into God's voice. When we intentionally listen, we can hear God speaking through His Word and the Holy Spirit living within us. Our adults and students were challenged by the sermon and Bible studies.
One highlight was seeing a student who graduated from our ministry, Gracie Rightnowar, serve as a summer staffer at Crossings. Her three brothers came to camp with us, and our students loved seeing her again. Through ten weeks of student camp and four weeks of kids camp, Gracie and her fellow staffers are impacting thousands for God's Kingdom this summer. Staffers endure many long and hard days, but that is a summer well spent, and I am proud of her. Please keep Gracie and the other Crossings staffers in your prayers as they continue ministering at kids camps.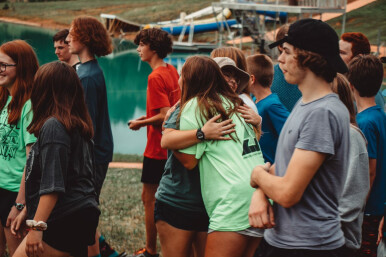 Many of you may have been to camp in the past, but I would like to invite you to continue reading and join me for a typical day at Crossings Camp.
A Day at Crossings Camp
We all wake up around 7:00 am for breakfast at 8:00. It's not hard to get everyone up since we are in a shared lodge with six rooms and a large common area. If you make enough noise in the common area, everyone can hear you!
Even after walking to the cafeteria and eating breakfast, you're still a little groggy from being up late the night before. You walk into Morning Celebration and encounter a high-energy session of music, videos, interactive games, and skits. You're playing the games and listening to the host explain their show for the week, and then the lights change. The music goes up. You look to the side of the auditorium and see T-Rexes running down the aisle to interrupt the show for a spontaneous dance party. Everyone gets on their feet and follows the dinosaurs' lead. Even with their distinctive short arms, the T-Rexes can still dance well.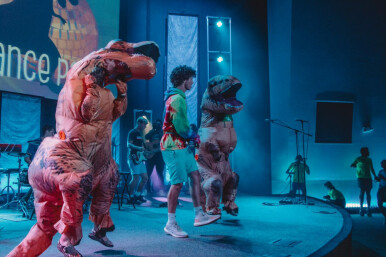 You remain in the auditorium for a large group session from the camp pastor, David McCaman. He speaks for about half an hour on the theme for the week, I AM Moses. You've been walking through the story of how God rescued the Israelites out of Egypt. He led them from slavery to freedom, and we can have that spiritual freedom too when we come to know Jesus Christ as our Lord and Savior.
After large group, you are broken up into small groups with students from across the camp of the same gender and grade. These groups are led by a Crossings staffer. On the first day, you learn about the 3 Circles Gospel presentation. God created us to be with him, but sin and death led to brokenness and separation. The only way back to a relationship with God is through repenting and believing in the gospel. On the other days, you go through a lesson on Exodus.
The morning also has a time of outdoor recreation where your small group competes in games. All of the points are being tallied to determine the winner at the end of the week, so you give it your all before lunch.
To kick off the afternoon, our church gathers back in our lodge for a lesson on the I AM statements from the gospel of John. Moses encountered the I AM at the burning bush, and we encounter Jesus as the I AM in the New Testament. We talk about the passages and break into groups led by our adult leaders for prayer and discussion about what God is teaching us this week. Also, everyone has a few minutes of alone time to read the personal devotions in their booklets.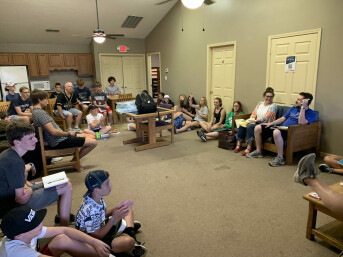 We then head to our POIs (Points of Impact) where you can participate in fun activities: tubing, laser tag, zip lining, hatchet throwing, kayaking, bazooka ball, archery, and more. Students participate in one of these activities per day, and three in the week.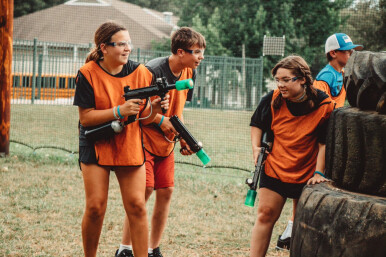 The rec lake is our last activity before dinner. You can go down water slides, blob someone up in the air, hold onto the water zip lines, climb on inflatables, and enjoy swimming with your friends.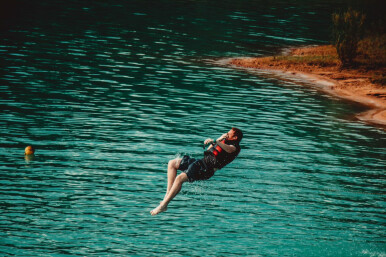 We eat dinner and then arrive at evening worship. Our band for the week is HeartSong, a ministry of Cedarville University. We sing worship songs and hear Pastor David unpack Exodus for us again. His messages are challenging and direct. Our church group unpacks all that we have heard after the worship session, and we have some free time before lights out. You get ready for bed, hop into your bunk, and sleep away to do it all again the next day.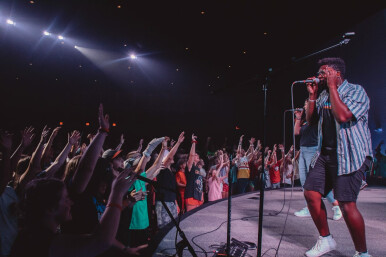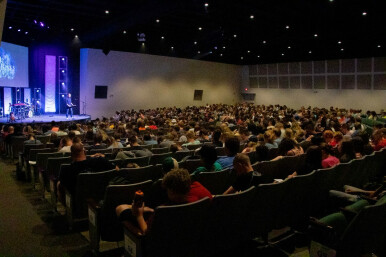 Moving Ahead
Our students are wanting to step up. Some feel like they have fallen back in their faith, and they need to move forward. Pray that they would have the boldness, the courage, and the fervor to follow the Lord. Others are curious about pursuing vocational ministry; please pray for the Holy Spirit's guidance in their lives as they listen to His voice.
Thank you to all the parents who allowed your kids to go with us to camp, and thank you to the adult leaders who joined us for the week (Jon & Kaitlin Wies, Mike Barclay, Nickole Jude, Gwen Doyle, and Melanie Perstrope). Camp is a great investment for a student's spiritual walk. Lives can be changed at camp, and we ask God to continue working in our hearts and lives based on what He taught us at camp.
Connect
If you are a parent or a grandparent of a student who will benefit from plugging into the student ministry or attending camp next year, I would love to have a conversation! Please reach out to me at .
For a full collection of camp photos, please visit our FBCW Students Facebook page. https://www.facebook.com/media/set?vanity=wentzvillestudents&set=a.3114879802078913