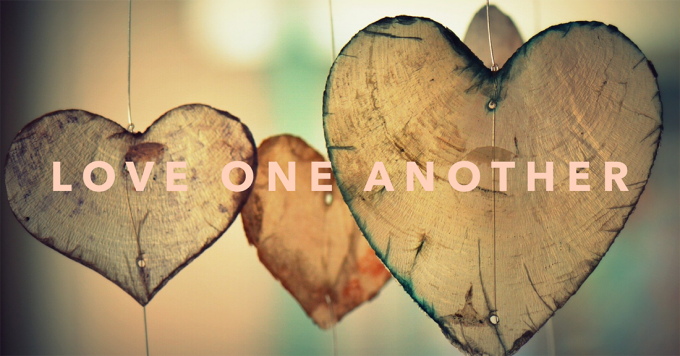 LOVE ONE ANOTHER
Have you noticed what a divided world we live in? Think about what divides us—wealth, politics, color of our skin, religious beliefs/convictions, social justice, age, culture, etc… You can probably add others. But what is it that causes these differences to be a problem? As always, God has an answer. It says in James 4:1-3: "What is causing the quarrels and fights among you? Don't they come from the evil desires at war within you? You want what you don't have, so you scheme and kill to get it. You are jealous of what others have, but you can't get it, so you fight and wage war to take it away from them. Yet you don't have what you want because you don't ask God for it. And even when you ask, you don't get it because your motives are all wrong—you want only what will give you pleasure."
If there is one thing age has taught me, it is perspective! Things that once shook my world are just not that important anymore! I'm sure the year 2020 taught many people that lesson—no freedom to do the things we were used to doing or going to the places we were used to going. We lived through it and survived. It's amazing what you can get along without! When we leave this world and are in eternity, the differences we had on this earth will have no meaning and be forgotten! There is really only one important matter—WHERE WILL YOU SPEND ETERNITY?
Jesus spoke to His disciples in John 13:34-35: "So now I am giving you a new commandment: Love each other. Just as I have loved you, you should love each other. Your love for one another will prove to the world that you are my disciples."Have you noticed there is so much hatred, bias, fear, and anger? Satan is behind it, and using it everywhere he can—even within the Church of Believers! He knows his time is short and he's determined to do as much damage as possible. We have been warned.
I Peter 5:8-9 states: "Stay alert! Watch out for your great enemy, the devil. He prowls around like a roaring lion, looking for someone to devour. Stand firm against him and be strong in your faith. Remember that your family of believers all over the world is going through the same kind of suffering you are."
That is my point, "stay alert!" Don't let any of these worldly differences (politics, science, medicine, media, or culture movements) come between you. Believe me, unbelievers are watching "professing Christians." Are we proving to them that we are disciples of Christ? We can only do this if we continue to show our love for each other!
As Peter wrote in I Peter 3:8-9: "Finally, all of you should be of one mind. Sympathize with each other. Love each other as brothers and sisters. Be tenderhearted, and keep a humble attitude. Don't repay evil for evil. Don't retaliate with insults when people insult you. Instead, pay them back with a blessing. That is what God has called you to do, and he will grant you his blessing."
This up another point I'd like to make. How do we show "Christian Love?" C. S. Lewis wrote a book explaining that the Greek language has five different words for love, and they are descriptive of different types of love. I'm sure you've heard the word "agape" before. Its meaning is "unconditional love!" That is the love Jesus has for each one of us, and He said we should love each other in that manner. The New Testament so often refers to the "Family of God." We are brothers, sisters, mothers, fathers, and children (yes, even grandparents) spiritually. We are going to spend eternity (forever) together!
I was just contemplating the other day—what will "love" be like in Heaven? I'm sure it will be a "Pure Love" for there is no sin, lust, temptation, jealousy, disappointment, or emotional anxiety in heaven. We'll have new bodies (Praise the Lord!), new understanding, new perspective, and we'll greatly enjoy each other's presence as we worship and serve our Lord of Lords and King of Kings, Jesus Christ!
Don't misunderstand me. I am married to a woman I love with all five loves–plus! She has been a gift from God, and I believe the woman Solomon was talking about in Proverbs 31. With that established, I do believe I'm a member of the Family of God and as such I have brothers, sisters, children, grandchildren that I "love" in Christ! I rejoice whenever a new member is added. Please remember there is only One Race—the Human Race. God made all of us in His own image. And, there are only two categories of people—those who are saved, and those who are lost.
"God so loved the world (everyone), that He gave His Only Son, so that whoever believes in Him will not perish, but have everlasting Life." John 3:16
Please, I beg you, be alert to the many ways Satan will try to divide us in these "last times." Rebuke him, in the name of Jesus, and stand united in Christ. I pray that you are in the Family of God and will spend eternity in Heaven. If you're not sure, admit today that you have sinned against God, that you believe in the Gospel of Jesus, and call on Him!!! He is waiting with open arms! He loves you so much He died for you. I love you too and invite you to come to Him right now—don't delay! "Today is the day of Salvation!" None of us even know if there will be a tomorrow here on earth.